Modern solutions


that change business for better

Self-ERP - українська компанія-інтегратор комплексних автоматизованих рішень для розвитку та управління бізнесом на базі Odoo 16 Enterprise

Contact us
Modern solutions




that change business for better
Self-ERP is a Ukrainian company that implements complex automated solutions for business development and management based on Odoo Enterprise
Contact us


We offer the most relevant
opportunities for the Ukrainian market

The implementation of ERP systems strengthens the company's market position and serves as a key competitive advantage
Business automation using the advanced functionality of Odoo Enterprise makes your business adaptive and flexible. So, start modern automation right now with Self-ERP.
Self-ERP solutions represent a new, modern business management ecosystem
To build our solutions, we chose Odoo 16 – an international platform with 7 million users worldwide. The ERP solutions from Self-ERP are crafted to align with the realities of business management in Ukraine and consist of fully integrated business applications.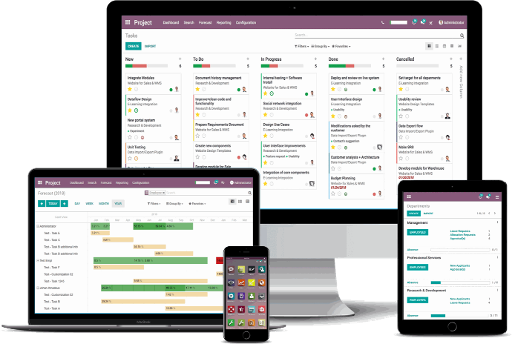 All the necessary business tools are implemented in a unified system
The outcome of implementing automation on Odoo 16 from Self-ERP is a unified company management and business development system. After ROI analysis, 81% of companies report improved metrics due to the implementation of the ERP system
Implementation stages
When planning each stage of project implementation, we pay attention to all the aspects and specifics of your business to fully meet requirements, adhering to deadlines and high software development standards.
Analysis
We contact and clarify the details and business needs ​
Development
We develop and align the logic of implementation
Deployment
We configure the system and train your team
Support
We stay in touch for ongoing support and updates
Why Odoo?
Odoo Enterprise is an open-source solution that significantly distinguishes itself in capabilities from other ERP technologies. Thanks to numerous developments by Odoo S.A. and its community, over 7300 modules are available for flexible customization to suit your needs.
Business needs
Other ERPs
CRM
A powerful solution with flexible tools for customer communication
Mostly not available
B2B sales
Electronic signature, online payments, upselling and cross-selling tools, Point of Sale (PoS)
Mostly not available
Ukrainian accounting
Accounting and management
Usually, a simplified version that is not suitable for Ukrainian realities
Marketing automation
Automation of mailings, mass mailing, event marketing, blogs
Mostly external tools are required
Human Resources Management (HRMS)
Recruitment, assessment, payroll, time management
Usually, a simplified version
Why choose us
for implementing ERP on Odoo Enterprise?
Professionalism

Self-ERP Company is a team of experienced professionals specializing in development and automation specifically on Odoo. For many years, we have been creating and successfully implementing solutions on Odoo, offering businesses optimal automation options.
Experience

We leverage the practical experience of leading experts in Ukraine's accounting and finance sector, crafting our solutions for industry-specific needs and regulatory compliance.
Training

With each implementation, we pay special attention to user training, significantly enhancing project efficiency for the client.
A unified ecosystem of applications
The essence of a unified ecosystem is that all your data entered into Odoo 16 will be automatically applied to all integrated applications.
When creating a personalized automation solution for you, we pay special attention to integrations that are crucial for doing business in Ukraine. This allows the integration of necessary modules into a single system.
Choose the optimal solution for your business
Get a free consultation from Self-ERP experts – fill out this simple form, and we will contact you during business hours.
FAQ
What is an ERP system?

An ERP system is a set of software tools for effective business process management, derived from the English term Enterprise Resource Planning. However, nowadays, an ERP system (also written differently in Ukraine – ERP, Erp, erp) enables not only resource planning but also analytics, trend analysis, research, and influencing the company's development.

Why is an ERP system needed?

An ERP system is the primary tool for executives or company owners to make effective decisions. ERP systems are used not only by executives but at all levels of managing a company – for monitoring processes, the current state of procurement and sales, and conducting managerial and accounting activities.
What is the difference between CRM and ERP systems?

An ERP system is a more comprehensive set of tools than CRM. Unlike purely CRM systems, ERP allows efficient management not only of the customer part and sales but also other processes like production, logistics chains, accounting, and more.
Who uses an ERP system?

ERP systems are used in all the key processes of a company. It's crucial that all processes are part of a unified system, and data is updated and integrated among them.
How much does an ERP system cost?

The cost of an ERP system depends on various factors. For instance, the license cost starts from 12 euros per user per month, and additional costs may apply for configuration or customizations. Today, unlike in the past, an ERP system is considered not just an expense but an investment that provides a substantial competitive advantage and stimulates development.